Login
Log in if you have an account
Register
Having an account with us will allow you to check out faster in the future, store multiple addresses, view and track your orders in your account, and more.
Create an account
About Fairmount Bicycles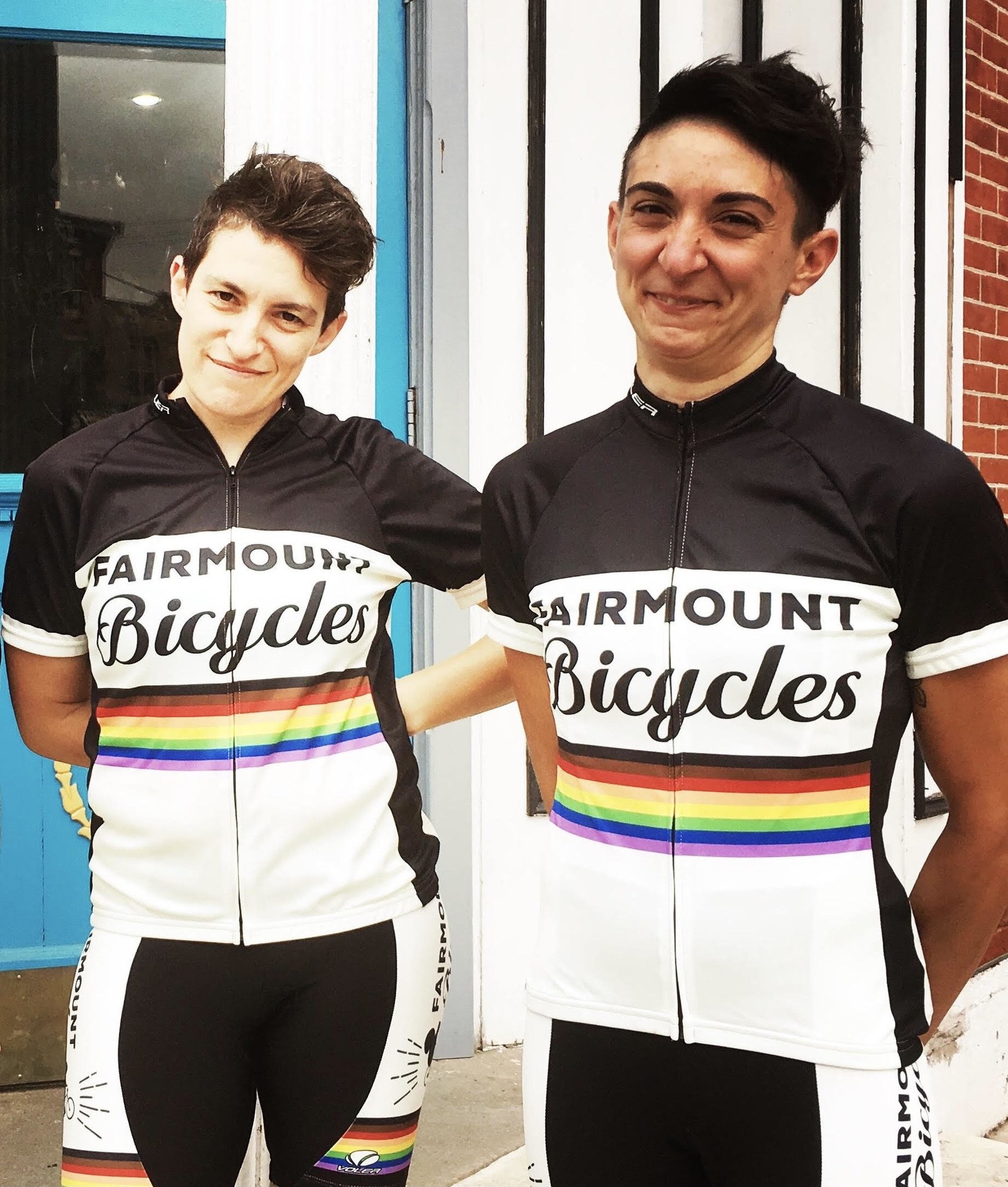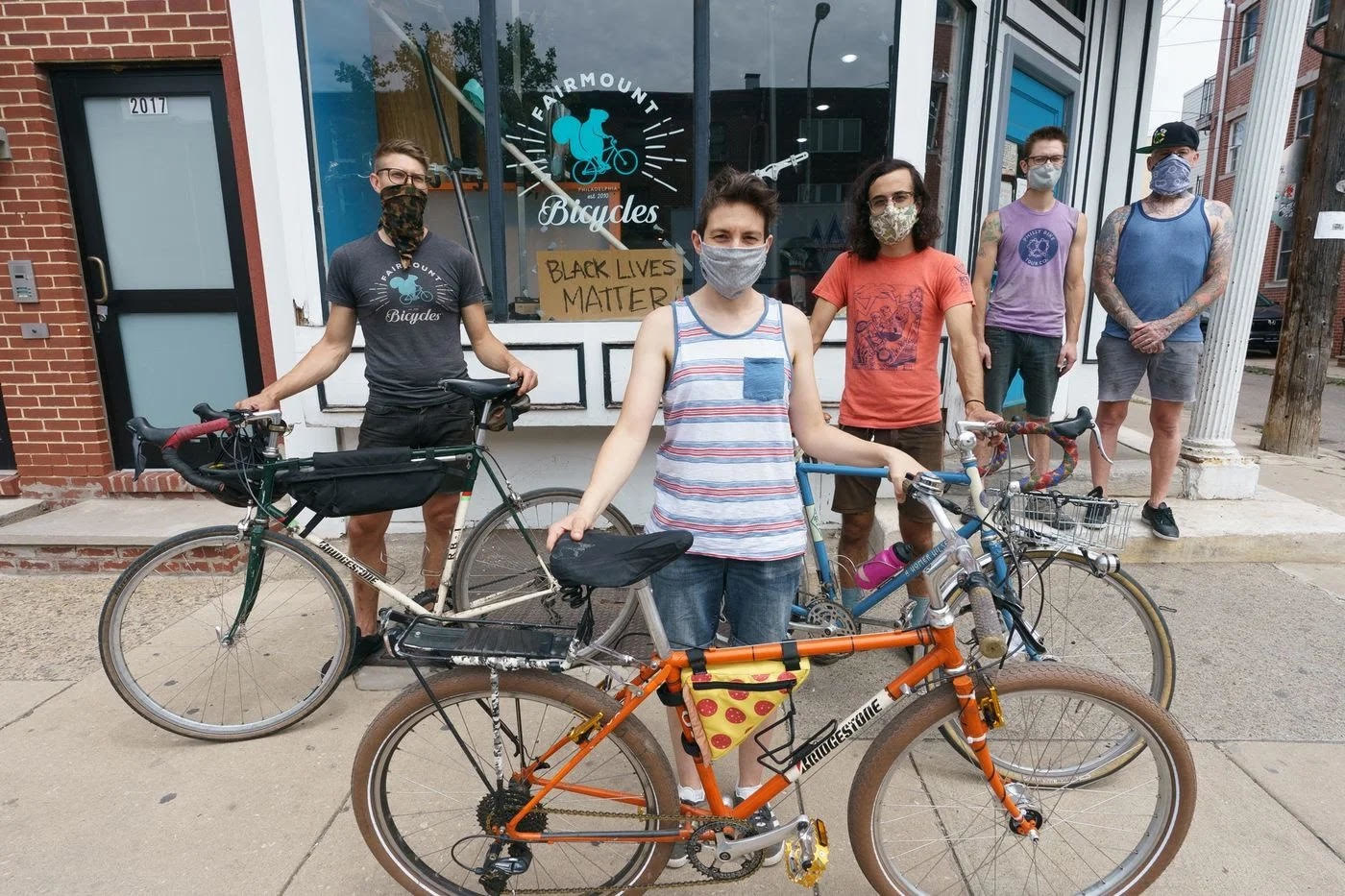 The current crew at Fairmount Bicycles & Brewerytown Bicycles, in order of how long we've been here: Shelly, Cris, Kyler, Amy, Sea, Tennesse, Mar, and Bryce. Our Fairmount location opened in 2010, and we opened up in Brewerytown in 2014. We like bikes and social justice, and are always looking to partner with organizations and efforts to fight against white supremacy, the patriarchy, transphobia, homophobia, and all that is wrong in the world, especially if it has anything to do with bicycles.
We are a queer owned bike shop. That queer human is me, Shelly S. Walker. Hi! I use she/her pronouns. When you come on by the shop, please let us know what pronouns you use, too! I live in South Philly with my partner and our 5 year old.
What do we do here? We sell new bikes, used bikes, and all the gear to go along with 'em. You can rent a comfort bike, road bike, hardtail and full suspension mountain bike, and you can take a guided tour of Philly through the Philly Bike Tour Co. We fix bikes, and we like getting other people into fixing and riding bikes. We host shop rides and repair classes. As for us? We all use our bikes to commute. A lot of us mountain bike, some of us road ride, and almost all of us have done some bike touring. 
Just because our bike shops exist within capitalism does not mean we have to settle for all the exploitation that comes along with it. We value work-life balance, paying living wages, and paid time off. We value helping each other and helping our community. We try to work with companies that support us and our values. We're strongly against bike shop snobbery and pride ourselves on being a friendly & approachable shop. Have a question? Come on by or send us an email. Are you trying to open your own small business and want to talk it through? Love chatting about that stuff too. Do you want to come play ice hockey with me? Definitely reach out. If you're wondering whether or not you should contact us, please just go for it: [email protected]

A bit of history on how the bike shops became a reality
I went to Temple University for film after graduating from Kennett High School (Class of 2000) in Kennett Square, PA. You may know Kennett because it's famous for mushrooms and smelling like manure. My degree in film meant that I got to work in restaurants, play music with my friends, and do lots of traveling.*  
As a kid, I rode my bike around my neighborhood for fun, but in my 20s, I started riding a bike for transportation. Around 2008, my high school partner, bandmate, and longtime friend Pixy got me into fixing bikes. They had been fixing up bikes out of a basement, and I suggested we scale up the project. I'd help with the logistics of everything and all they'd have to do is fix up bikes. We set up a workshop in a warehouse in Kensington, bought bikes from the suburbs and brought them back to Philly to fix up and sell. Most of our business was conducted via craigslist, but people also found out about us through word of mouth. I was living in West Philly, working at the White Dog Cafe** and biking to Kensington a few days a week. I would try different routes to get there, and eventually found a really enjoyable commute by going through Mantua, over the Spring Garden bridge, behind the art museum, along Fairmount Ave, over to Poplar, through Northern Liberties and into Kensington. Mugshots (throwback!) was about the halfway point, so I would often stop to have coffee there and meet up with friends. I started wondering where Fairmount's bike shop was, and when I realized it didn't exist, I wanted to make it happen. I signed up for a business course through Entrepreneur Works*** and started working on my business plan. I got some friends and family to invest, found a storefront, hired Cris George (yes, he's been here since day 1!) and we had our grand opening on June 12, 2010.
Kyler came on board in 2011 right after working at a bike co-op in Mexico City. He knows all the bike terms in Spanish, which really comes in handy for our Spanish speaking customers. Amy came on board during 2020 when things were hectic and weird as hell. When she's not here, she spends her time at Iglesias Garden, a community garden in Kensington. We brought on Sea from Buffalo NY, which apparently is where you have to live first in order to appreciate Philly's bike infrastructure. Tennessee, Mar, and Bryce all started in 2023.  
Philly Bike Tour Co.
After taking a bike tour of Chicago with Bobby's Bike Hike in the mid 2000s, I was inspired to help create something similar in Philly. In 2013, we launched the Philly Bike Tour Co. with the help of a handful of people who have moved onto other projects or lines of work - namely Thom Carroll & Josh Rothstein. We started with one tour, the Classic City Tour, and we have now expanded to include a handful of specialty tours. The Fairmount Park Story was designed by Jonas. Maybe now is a good time to mention that Jonas & I also went to high school together, and he is one of the friends who invested in the shop from the very beginning. In addition to being a shareholder and tour guide, he also started managing the tour company in 2017 and came on board to train to be a mechanic in 2020. But I digress! The Fairmount Park Story is a super interesting overview of how Fairmount Park came to be, paired with a highly enjoyable bike ride through the park. We also do mural tours in collaboration with Mural Arts, and I'm very excited to launch a personal passion project of mine, the tour entitled How Brewerytown Got its Name. Jonas and I have been working hard on this beer history and tasting tour. 
Brewerytown Bicycles
In 2014, we opened up our second full service bike shop at 28th and Girard in Brewerytown. Our initial idea there was to have a line of mountain bikes and rental mountain bikes, since that was not something we were doing at our Fairmount location. The rental fleet was made possible through a grant from The Merchants Fund, and I am currently partaking in their coaching and mentorship program known as Beyond the Grant. After a couple of years on Girard Ave, we shifted our main focus at our Brewerytown shop to commuter bikes and accessories, since that's what the majority of people who come in are seeking. We still have some entry level mountain bikes for sale and the full line of rental mountain bikes - both hardtail and full suspension. As mentioned earlier, we love to host shop rides, and will do that again when we have the energy to. Personally, I love getting folks who have never ridden mountain bikes to come out and try it, especially those who identify as any marginalized gender.
Of course 2020 threw a lotta stuff our way, but one thing that came out of it that we're really stoked about is our Community Card. We have a wide range of customers and this is one way for us to help redistribute funds, even if in a small way.  
Thanks for reading this far, and hope to see you at the shop.
*This was also made possible by intergenerational wealth and the privilege of being able to graduate from college debt free. 
**Do you know the White Dog Cafe? Cute lil restaurant near Penn's campus in West Philly, started in the 80s by Judy Wicks, who was one of the first people in the Philly restaurant scene to care about the whole farm to table idea. I worked there until it got sold to the people who own the Moshulu. I was there during the initial phase of the transition, so I watched them tell everyone their job was safe and then fire the entire kitchen staff. Front of house manager bro would come in and ask rhetorical questions like "do I want to have a good shift? I do. I do." ugh. I quit on Valentine's Day 2009. The person I told was someone who *also* went to Kennett High School, but we didn't really know each other back then. I said "I can't work tonight. Or ever again." Mostly I have such fond memories of this place! I made great friends and it's where I met my partner ❤️
*** I highly recommend Entrepreneur Works if you're thinking about opening up a business! Earl Boyd in particular is an amazing human and helped me tremendously. The whole team there is incredible. The 10 week course is only a couple hundred bucks.